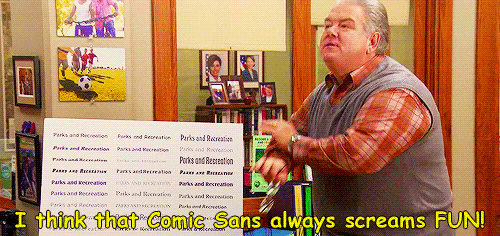 Six Lessons from #GivingTuesday Emails
As you may imagine, I received a lot of #GivingTuesday emails. This year, I reviewed them all to highlight some things that I liked and recommendations on what to avoid. For email messages that I'm highlighting, I've included their name. For email messages that had some challenges, I'm omitting their name.
Time is not always on your side
One organization sent an email that was focused on the time left in the campaign. It included the text, "Only 5 hours left on #GivingTuesday. We can do this!  As of 7pm, our awesome supporters have raised nearly $5,000!"
This email does a good job of using time to build a sense of urgency. The challenge is the email arrived at 5:15pm. It was written with a central time zone audience in mind. Using the time left in a campaign isn't recommended because it's very challenging to control. You have to segment for time zone. If your data on audience location isn't strong, you'll send emails with the incorrect time to many recipients.
Sending emails with a reference to a specific time, also assumes that the emails will be delivered when they're supposed to. #GivingTuesday and December 31 are very busy days for email delivery systems – Constant Contact, Convio/Blackbaud, Vertical Response, etc. While these companies prepare for the increase in volume, there can be issues. On December 31, 2014, Convio had systemwide delays that slowed down delivery of messages. I received an email from a national organization urging me to donate with just "six hours left in 2014". Unfortunately, it was delivered at 4:30am on January 1.
Show your personality
If your email is coming from an individual (Executive Director, Board Member, volunteer), you should try and convey their personality in the message. The best example of that this year was a message from Serena Clayton at the California School-Based Health Alliance.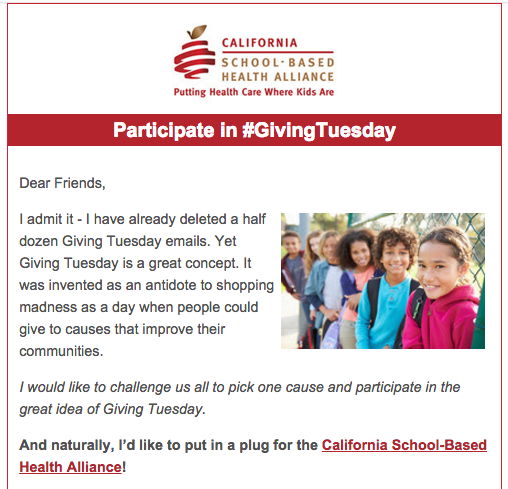 This email made me laugh because it was personal and self-aware. Stating, 'I know you're getting a lot of messages today, but this is why you should support us' was a personal and thoughtful choice.
Email length
One of the first messages I received was one of the messages with the most issues. The email was 470 words and did not have any images or much to break up the text. The email clocked in at 470 words, which was far too long. On a day like #GivingTuesday, your message shouldn't be this lengthy as you'll struggle to hold the reader's attention.
Use matches creatively
An email from KQED shared:

This was an interesting approach and likely an A/B test. It can be difficult to find an appropriate way to share fundraising success with your audience. Sharing that you've already reached a goal, may make a potential donor think, "They're doing just fine. I guess, I should donate elsewhere." This email attempts to use the match to build a sense of urgency, while also making the reader feel like they're one of many supporters. It's possible that KQED used this section to do an A/B test for their audience. Would people be more willing to give if they thought they were part of something larger? Does knowing that you're not the only supporter make you more willing to donate?
Read through your call to action and read it again
No one is perfect and when you're rushing through an email, it's easy to make mistakes. I certainly have. But, your call-to-action needs to be focused and perfect. One nonprofit sent an email with the following:
We hope that <Name of org> is chosen as your favorite nonprofit organization for #GivingTuesday today and you make a contribution for wilderness.
That isn't a clear message and was the focus of their message. It was the emboldened link for recipients to click on to donate.
Don't forget to link
Finally, the biggest issue that I saw this year was missed opportunities to link to appropriate content in email messages. One organization included text, in multiple emails they sent, that said, "Remember, donating isn't the only way you can help us today—start your own fundraising page, re-share our messages on Facebook and Twitter…" They didn't link to their Facebook or Twitter page in the text and those links were buried in the footer of the email. While focused the call-to-action and links on donating makes sense, if you're sharing other ways to help – make it easy to get those pages.
Another organization discussed the importance of three key initiatives and why it was important to support them. But, the only links included in the email was to givingtuesday.org and to two organizations they're partnering with. This may seem obvious, but when you're asking for donor support – you have to provide links to your donate page. You should include multiple donation links in your message.
We hope this email review is helpful as you prepare future messages. If you're looking for additional helpful information, we enjoyed the these links from the week: