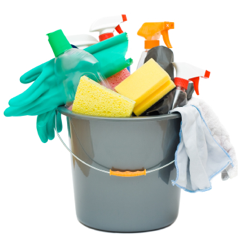 Spring Cleaning
With the official start of spring behind us, a popular pastime for both households and offices alike is the practice of spring cleaning. From a communications standpoint, spring is a great time to assess how efforts started in the new year are performing, as well as determine if it's time to refocus resources and attention elsewhere. Below, we outline a few steps for each major area of your digital communications strategy that might be in need of a spring cleaning.
Social Media
Are there any social media networks that you have been neglecting? Have you noticed less engagement or feedback on previously successful platforms? Now is a great time to assess how you want to allocate your resources, including either adding a new network, or potentially closing down an account.
Database
Nobody likes cleaning out a database – even data nerds like us. But as your database grows and develops over time, periodic clean-ups are necessary to help keep your organization running smoothly. You don't need to dedicate yourself to a massive overhaul – just focusing on one category of constituent, one area of need, or a type of constituent (volunteers, donors, etc.) can help you stay organized.
Email
When was the last time you purged your email lists? It almost seems blasphemous to say, as email list size is the bread and butter to most nonprofit online fundraising campaigns. But look at the numbers – who has opened an email you have sent in the last year? Who hasn't? Who has clicked on any of articles or calls to action you have provided? Who has forwarded your messages to others? Is it time to remove people from the list who haven't responded to you in some time? These questions are key to solidifying your email marketing campaigns.
Website
We've discussed the basics to Google Analytics in the past – but cleaning up your website goes beyond knowing the basic information about your site. Are all of the links on your site still active? Is the branding on older pieces still consistent with your current design and voice? Is the vocabulary you use on key pages still up to date? Simple questions, to be sure, but ones that can have an impact on your efficacy of your website.
We don't recommend you tackle all of these projects at once. But by choosing what areas of your communication need the most grooming, you set yourself up for greater success this summer, and subsequently, any end of year fundraising efforts you make in the months to come.
We really cleaned up in pulling together our links for this week. If you're feeling extra dirty, be sure to check out our Tumblr for more.