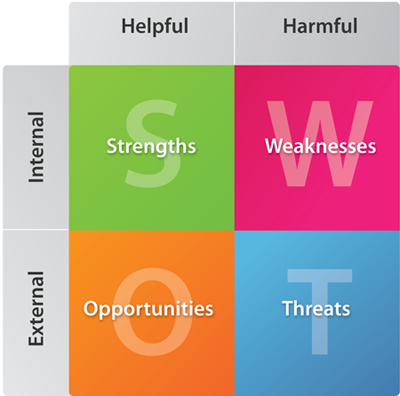 The Wrong Way to SWOT
The SWOT analysis is an effective and invaluable tool when considering strategic opportunities, regardless of business type or intention. For those uninitiated, SWOT stands for Strengths, Weaknesses, Opportunities, and Threats. The analysis is typically organized in a grid, with Strengths and Weaknesses representing internal dynamics, and Opportunities and Threats analyzing outside elements.
We often deploy a SWOT analysis when starting a new project with a client – it provides us an opportunity, as outsiders, to get a better sense of where the organization feels they lie within the landscape. This tool has allowed us to best understand what objectives are most attainable as we launch new communications, data, or web based initiatives.
But too often, organizations deploy a SWOT analysis with a confirmation bias, rather than as an objective device to truly assess potential direction. That is, they use the SWOT to help confirm a decision they are already in the process of implementing, rather than using it to analyze what direction to move in.
The flaw in using it as confirmation of a process, vs. as an assessment of potential direction, lies in the subjective nature of completing the SWOT grid. If you already know what you want the outcome of your analysis to be, you can fill up your weaknesses and threats with items that validate your decision, instead of as their intended purpose of showing you areas of concern or opportunities to change strategy.
Successful strategy is reliant on taking an objective approach to your organization's strengths and needs – by taking a tool designed to help define direction and repurpose it to confirm steps already taking place, you run the risk of continuing to move in the wrong direction.
Take the opportunity to catch up on reading for the week with these links: