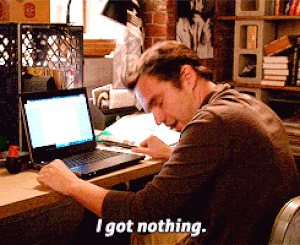 Three Questions to Help You Write
Almost everyone who works in the nonprofit or social enterprise world has to write at some point in their day. Individuals are responsible for annual reports, program updates, mass emails, social media, and blog posts. Finding the time and creativity to write can be challenging.
This week Kenna Griffin of PR Daily provided five suggestions on how to stop procrastinating and start writing. This piece helped me during a writing project this week and made me think about additional questions to think about that can help motivate you.
Who are you writing for?
Whenever I'm struggling to write, I go back to the question – who do I want to read this? It helps keep me focused on the intended audience and avoid straying off course. I always try to consider what I want them to take from the piece. What is the call to action? What do I want them to do when they've read my email or Facebook post? Is what I'm writing relevant to that group? Continually coming back to these questions helps tighten up the piece and keep you focused.
Where are you writing?
If you're struggling to stay motivated you should consider where you're doing the work. Do you have a lot of distractions? Is the same place that you're working the rest of the day? Where do you do your best writing? I've found that my location impacts my writing speed and creativity. There are times in which the office is distracting and writing from a coffee shop or somewhere without wifi helps me focus and minimize distractions.
When are you your most creative?
Timing your projects around the natural ebb and flow of your day is an ideal way to tackle writing commitments. Are there times of the day in which you're most creative and able to focus? Your organization's writing needs may not always be conducive to your natural clock, but if you find you're most creative and can better focus early in the morning – start the day off writing. If you've found you to your best writing when you're under a deadline, create an artificial deadline for yourself. Tell your colleagues you'll have something to them by 10am and push yourself to meet that goal.
If you need additional motivation for writing, reading others can help spark creativing. Below are a few links we enjoyed from the week.
Google is changing their mobile ranking algorithm on April 21. Robin Strohmaier explains the change and provides strategies to ensure you're ready.
Shana Masterson shares tips on how to crowdsource fundraising ideas.
Nancy Baughman Csuti wrote a thoughtful post about how The Colorado Trust asks for data from grantees and the challenges with it.