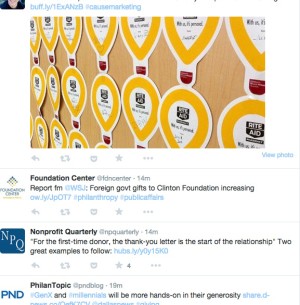 Twitter Sources for Keeping up with Nonprofit News
Keeping up with the news in our industry can be time-consuming. I utilize Twitter to keep up to date on nonprofit and technology news, recent trends, and interesting reads. This week, Erin Feldman of Giving Local American compiled a list of 100 Giving Influencers on Twitter. The list is an interesting and comprehensive collection of individuals who would be great to follow on Twitter.
When I'm looking to catch up on news or in need of quality links for the blog, I look to these twelve individuals and organizations on Twitter:
Allison Fine – @Afine – Is also on the Giving Local list. Allison is a writer, podcast host, and thought leader. I really enjoy her podcasts!
Amy Sample Ward – @amyrsward – Amy is the CEO of NTEN and consistently shares interesting content related to technology and nonprofits.
Andre Blackman – @mindofandre – Andre is a recent follow for me and I'm enjoying his tweets. He posts great content about digital communication and healthcare.
Heidi Garland – @GuildWest – I know Heidi through my work at the American Cancer Society, but we only recently connected on Twitter. I've been missing out! Heidi is a marketing and social media expert. She shares excellent and insightful content.
Mary Cahalane – @mcahalane – Someone who also made the Giving Local list, Mary is a fundraiser and consultant. Her blog posts are often included in our link round-ups!
Michael Chae – @mchae – A friend and former supervisor, Michael's tweets are always interesting and uplifting. Michael's Twitter engagement is what I strive for.
Paulette Bleam – @paulettebleam – A community engagement expert and director of social media at Sumazi. Paulette shares well-rounded and fascinating links. And makes me want to travel more often!
Shana Masterson – @npshana – Shana is a former colleague whose Twitter feed is perfectly aligned with what I find interesting. Fun fact – when I'm in a pinch and needs links for the weekly blog post, Shana is the first twitter account that I look at!
Steve MacLaughlin – @SMacLaughlin – A product manager at Blackbaud, Steve always has quality links related to fundraising and analytics.
The Nonprofit Quarterly – @npquarterly – A consistent source for news about nonprofits, governance, management, trends, and fundraising.
Yesenia Sotelo – @silverbell – A nonprofit technology consultant who provides excellent insight on social media, websites, and all nonprofit tech.
#Fundchat – @fundchat – In addition to their weekly chat, they are a great source for fundraising news and trends.
If you're interested in diving into more news, check out the following links. And not surprisingly, many of these were found in @npshana's Twitter feed.