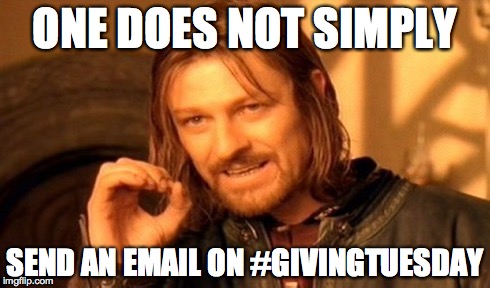 Cross-Channel Promotion and #GivingTuesday
In honor of the short holiday week, we bring you a short blog post!
As your organization makes final preparations for #GivingTuesday and end of year fundraising, be sure to consider all of the channels you use when communicating with your constituents from now until January 1st. These can include, but by no means are limited, to the following:
Social Media Updates
Email
Website Content
Blog
Direct Mail
Holiday Cards
Videos
Personal Emails & Signatures
Out of Office Messages
Voicemails
Holiday Parties
These are all potential opportunities for you to make your fundraising pitch. All places to bring your finely crafted fundraising messaging to the masses. All potential touch points with individuals who otherwise may not have interacted with your organization by donating.
Looking for everything we have to say on fundraising? Check out our "
Fundraising
" category here on our site. And finally, a few links to enjoy over the long weekend.
Chris Taylor of Reuters explores consumer's frustration of point-of-purchase retail fundraising.
Dev Battles shares seven website design trends you'll be seeing more of 2015.
What happens when data goes wrong? John Brothers of NPQ describes some of the issues from a United Way of Rutherford and Cannon Counties report that describes them as "more efficient than other nonprofits". Unfortunately, the data used was wrong.