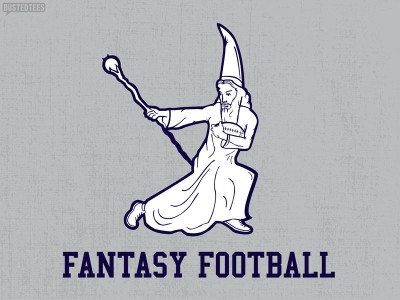 Nonprofits and Fantasy Football
The Labor Day holiday means one thing to Social Change Consulting – football season is finally here. And as we prepare for our fantasy football drafts this weekend, we couldn't help but notice the correlation between building a strong team and an effective nonprofit.
Fantasy football is a billion dollar industry wherein couch potatoes everywhere can manage a team of professional players in competition with friends, coworkers, and family. One of the first parts of the fantasy football season is the draft – where you and your competing managers select your players for the upcoming season.
In building your fantasy football team, there are certain positions that are more important than others. And their importance lies not only in player performance, but in understanding the data and return on investment that selecting these players can have. And to us, this is just like building your nonprofit.
QB – Executive Director
In fantasy football, quarterbacks score the most points out of every position. There are three "elite" fantasy football quarterbacks – these players consistently out rank their fellow quarterbacks in total points and points above replacement.
But when considering the value at quarterback, it is important to concede that because there are so many quarterbacks who provide the same value on a week by week basis, there is limited upside in selecting a quarterback early in your draft when other positions have a greater impact on your team's overall success.
Executive directors are often charged with doing it all – from managing, to fundraising, to writing grant proposals, to keeping up relationships with board members and donors. This is their value to your nonprofit team. And while they are critical to a nonprofit's success, it is important to round out your team with stars in other areas, especially programming and fundraising staff. Finding or becoming an elite executive director is vital for the success of your organization – but balancing their efforts with a strong team is crucial for increasing your impact.
Running Backs – Program Staff
Running backs are your weekly work horses. Over the last few years, it has become more and more common for football teams to deploy running back by committee – in that instead of having one person tackle the heavy workload, they deploy a team of stellar athletes to keep defenses on their toes. From a fantasy perspective, without a strong set of running backs, your team will struggle to succeed. There is a huge dip in production from the elite players at running back to those on the next tier, making it critical to have one of the best in order to best maximize your chances.
The same can said of the staff at your nonprofit who are implementing and deploying your work in your community. Program staff are the heart and soul of an organization – without them, all the fundraising and management in the world can't save an organization that isn't having any impact in the field. The ability to fundraise is unquestionably tied to the strength and impact of your programming – meaning your nonprofit's overall value is very much tied to the people implementing your work.
But like running backs, program staff can easily burn out with excessive workloads, which is why it is important to "hand-cuff" your program hiring by ensuring proper administrative support whenever possible. And when sick days and vacations occur, it is always important to have a deep bench to ensure that your work continues.
Wide Receivers – Fundraising & Communications Staff
Nicknamed the diva position, Wide Receivers are becoming more and more important with each season of fantasy football, as they are gaining increasing leverage and production in professional offenses. As the season wears on, it becomes more difficult to replace wide receivers through free agents, as any emerging elite talent has been taken up by other teams. Because of this, you sometimes are left to take a chance on a boom or bust player – someone that might score a touchdown and help you win your matchup, but can be just as likely to score zero points and sink your chances for the week.
Fundraising and communications fill the same role. While considered a luxury for small nonprofits, the contributions of fundraising and communication efforts can have a huge impact on the overall success of your organization by growing your audience and increasing your revenue. As your nonprofit expands revenue sources, it is imperative to have fundraising and communications staff on board to ensure you are communicating with the right audiences, following up with the right calls to action, and building meaningful relationships with donors and participants.
At a certain level, fundraising and communication staff are also boom or bust – how many nonprofits have interviewed fundraising staff and heard promises of bringing portfolios of donors into the mix? Or talking with communications consultants who promise big returns based on single campaigns? When these promises are delivered, you feel like you just created great value for your team – when they don't, you are left wondering if you could have used your resources elsewhere.
Tight End – Board of Directors
A common sentiment amongst fantasy football experts (and yes, people get paid to be experts of fantasy football) – be the first to pick a tight end, or be one of the last. The reasoning is again value based – because of position scarcity, there is one player that is remarkably better than the rest. If you have that rockstar, then you will be set. Otherwise, it makes sense to wait until the end of the draft and look for a potential break-out star. Utilizing a high-value pick on a mediocre tight end is not ideal.
It is exceptionally hard to develop a strong Board of Directors. Finding a team that helps with strategic direction, fundraising, and relationship building, all while supporting your organization's goals and objectives is like finding that one elite tight end. If your nonprofit has this elite board, you are in great shape. You have the positional stability to focus on developing other areas of your organization, such as program staff and development managers. You have the time to search and invest in talent that may emerge over the course of the season. For many small nonprofits, it can be wiser to try and bet on potential break-through board members than invest time in a mediocre talent, just in an attempt to get through another fundraising season or strategy session.
K/DEF – Volunteers and Interns
Kickers and Defenses are usually selected last in fantasy football drafts, for multiple reasons. They score significantly less points than the other positions we outlined. Their performance week to week is somewhat dependent on the teams they are playing, meaning it is oftentimes better to pick up new players and teams on a weekly basis. And because it is so rare for a single kicker or defense to carry your team, the value in investing a higher selection in the draft on one is very low.
Obviously there are a few volunteers and interns that can take your organization to the next level. But as smaller nonprofits, using your limited resources to cultivate volunteers can be challenging. Additionally, as most nonprofits have no doubt discovered, keeping free help on hand over a long period of time is unrealistic, as these volunteers often have a tendency to come and go based on their schedules and availability. This is not to say that volunteers don't provide value to your organization – but rather, in light of the other important work that your organization is doing, focusing on volunteer recruitment and training, at the detriment of cultivating other important tasks, can be misguided.
Whether you are building a nonprofit or a fantasy football team this weekend, we hope you have a wonderful holiday. With that, we bring you our weekly list of links.