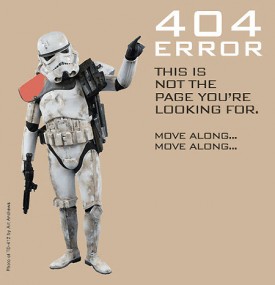 Nonprofit Websites and Broken Links
Your organization's website is one of the most important communication tools that you have at your disposal. But too often, nonprofits neglect this vital tool. Below, we capture the three main pages to monitor as you manage your organization's website.
Donation Pages
Far too often in our work thus far, we have found nonprofits that have broken links related to their donation platform. The importance of your donation page is obvious – taking the time to make sure that your website directs to the correct platform (and that your account is still live) is critical for maintaining ongoing online fundraising.
Resources
Many nonprofits host resources on their website – either of their own creation or links to other websites. If linking to other websites, you must periodically check to ensure that your link is directing to the proper location. Because other websites might reformat or rename their pages and documents, links and URL's that once worked may no longer be valid. For one of our clients, a link that was meant to go to a wonderful resource of another nonprofit now directed to an inappropriate website. Periodically review your resources page, click on the links available, and verify that you are directing your visitors to the proper pages.
Contact Information
Lastly, as new employees and volunteers are onboarded within your organization, it is important to monitor your contact information page. Even if you change the text that appears on the page (for example, from info@socialchangeconsulting.com to about@socialchangeconsulting.com) – the redirect to that email address may be incorrect unless you also changed the HTML code. Click on all the email addresses listed on your contact information to ensure that anyone trying to contact your organization is being sent to the correct, live email address or phone number.
Don't have the time to review each page of your website individually? Check out this online broken link checker to see if there are areas of your website that need some updating.
Looking for more updates? Follow us on Tumblr.